Security Lighting
Aztec Security Systems provides clients with a comprehensive range of security lighting solutions.
Our team supply and install floodlights and motion sensors which activate when movement is detected. Security lighting helps make a property much more visible, shining a light on a possible intruder.
We are fully qualified with Safe Electric to install security lighting. The skill of our installers mean we make sure the motion sensors cover the property and aren't tripped by passers-by.
All our lighting systems use low energy LED lights.

To discuss our range of security lighting solutions, get in contact with Aztec Security Systems today. 01 4099222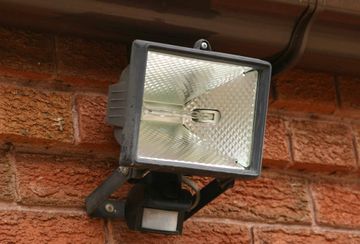 Our range of Dublin security lighting solutions is optimised to the security needs of both domestic properties and commercial properties in Dublin.

We combine our years of professional installation experience with the very latest security lighting, to create an effective crime deterrent.
Advantages of Security Lighting
Burglar Deterrent Keeping an outdoor area illuminated is an extremely effective bugler deterrent. Nighttime crimes are more likely to occur in dark areas so the burglar can avoid detection. Security lighting – fitted with motion detectors – limits the dark areas around your property.

Vandal Deterrent Security lighting can be an effective vandal deterrent. Vandals have been known to cause damage to the property, the properties features (the garden, property decorative elements) and any parked vehicles. Security lighting will likely scare off the vast majority of vandals.

Increase the Properties overall Security Well positioned and professionally installed security lighting is a vital home security element. It allows occupants to see who is at their door or approaching their property without having to go outside. When used in conjunction with alarms and other security systems, security lighting forms an integral part of a propertys overall security system.

Can Help to lower home insurance costs The addition of home security features can help lower insurance costs. A well-protected home is less likely to be burglarized. Insurance companies may reward security-conscious property owners by giving discounts on insurance payments.

Reduces the Likelihood of Accidents Illuminating dark parts of a property's exterior can reduce the risk of residents of guests suffering an accident due to poor visibility. If you have an outdoor pool this potential hazard must be fully illuminated at all times.
For more information on the advantages of security lighting, get in contact with Aztec Security Systems today.
Our Security Lighting Products include:
Floodlights with Motion Detection One of the most important and common types of security lighting features, the floodlight and motion detector combination, has been a feature of home security packages for years. However, if installed incorrectly floodlights and motion detectors can be an incredible annoyance if they regularly go off due to movement outside the boundaries of a person's property. Our security lighting experts professionally install the motion detectors to only detect movement within the confines of a person's property.

Bulkheads Bulkheads are an effective method of illumining the entry points of a property at night time while limiting light pollution. The innovative design of bulkheads concentrates the lights on specified areas, ensuing vulnerable parts of a property are keep lit. Bulkheads can be installed almost anywhere on the exterior of a property.

Bollards and Garden Lights Bollards and Garden Lights are often used to illuminate a driveway or a garden. As security lighting, these light solutions are available in a range of elegant and stylish designs and are a practical and stylistic addition to the exterior of any property.
Security Lighting FAQ
Do security lighting use much electricity?

Our range of security lighting options take advantage of the latest innovations in low wattage LED bulbs.

These low wattage bulbs can also be combined with sensors which are expertly installed by our team, to only activate when movement is detected at a specified distance from the property.

These innovations ensure energy efficiency.

Do security lights deter burglars?

Security lights help illuminate dark areas around a property and are often installed above entryways like doors and even windows.

Security lighting is an important part of a properties overall security package and when used in conjunction with alarms, CCTV and a monitoring system, security lighting can be an effective burglar deterrent.

What are the different types of security lighting?

Aztec Security Systems range of security lighting options include:

Continuous Lighting
Emergency Lighting
Moveable Lighting
Outside Security Lighting
Standby Lighting

How do I know where to install my security lights?

Our team of security light installation experts access your property and will suggest and install security lighting in the most optimal locations.

Generally speaking, security lighting is often installed above entry points like doors and windows.